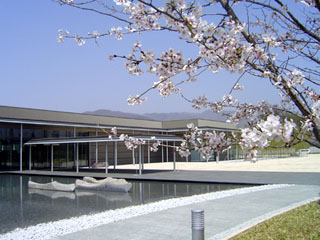 'Welcome to the Yamanashi Prefectural Museum !
Yamanashi is situated in the center of the Japanese archipelago, and is one of the few prefectures without any sea on its borders. About 80% of its land is covered by mountains and forests. Difference of elevation exceeds 3,000m from the plains to Japanfs highest mountains, Mt.Fuji and the Southern Alps. Various animals and plants inhabit its complex landscape. Yamanashifs history and culture was developed and passed down in such diverse environment.
This museum was built in 2007 to promote the interaction of people, to make their appetite for deeper learning of history and nature, and as an information center.
The activities of the museum is centered on its basic concept eNature and People in Yamanashif. It will carry on comprehensive study on how people of Yamanashi lived in its manifold nature.
'Basic Concept
Ÿ

Nature and People in Yamanashi
@
'Basic features of the museum
ŸMuseum that lays emphasis on history
Museum that you can learn the history of Yamanashi surrounded by abundant and manifold nature.
ŸMuseum with hands-on and interactive exhibits
Museum that people can interact and enjoy activities; Meet with people, things and information.
ŸHub Museum
The network core connecting local environments, cultural assets, and facilities, leading to cultural promotion and regional development.
ŸMuseum that keeps on growing
Museum that promotes peoplefs intellectual interests and make their appetite for deeper learning; Museum where enterprises and activities expands in accordance with growing individual needs and research developments.

@
'Outline of Architecture
Total Site Area
approx. 65,000‡u
Building area
approx.@9,690‡u
Total floor area
approx.@8,760‡u
Exhibition area
approx.@2,765‡u
Storage area
approx.@1,458‡u
Education and communication area
approx.@@@479‡u
Management area
approx.@@@695‡u
Research area
approx.@@@410‡u
Common use area
approx.@2,010‡u
Machinery area
approx.@@@943‡u
Reinforced concrete construction, flat building